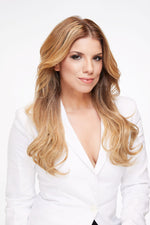 Welcome All Beauty was built for women who value their time and productivity but want to still look their best. Welcome All Beauty products are made to help women stay empowered and elevated. These steps will help you look stylish and keep you from spending three to five hours a week on your hair.
Once you have selected one of the 8 colors that best suits you, we can begin.
For a detailed visual, you are always welcome to watch our Bouncy Bombshell Hair Tutorial.
Step 1: Section
To begin, section off your hair towards the back of your head with an elastic hair tie.
Step 2: Secure Welcome All Beauty hairclips
Once you've sectioned off your hair, begin to clip in the 5-clip weft of hair into your natural hair.
Step 3: Repeat
Now you can repeat the process in the front sections of your hair using our 2-clip wefts on each side.
WAB Tip: Clip the 2-clip pieces as close to the roots as possible for a more natural look.
Step 4: Finished
One you've finished clipping in, go ahead and give your hair a little brush or tease for volume. And Ta-Da! You are ready to conquer the day.