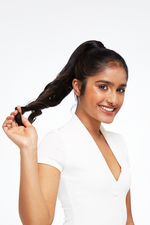 Welcome All Beauty was created for women who value their time and productivity but want to still look their best. Our products are made to help women stay empowered and elevated. These steps will help you look stylish and keep you from spending three to five hours a week on your hair. Don't worry, we won't lose you halfway!
And for our visual learners, here is a little video for you.
Step 1: Style your natural hair into a ponytail
The first of many easy steps to rock your Makes Some Waves Pony is simple. Simply style your hair in a high pony or pony of your choice.
Step 2: Secure Welcome All Beauty hairclip
Now that the most difficult part is done, take your Make Some Waves Pony and secure it in place with the wire comb.
WAB Tip: Try to secure the wire comb above a pony elastic hair tie. The sturdier the better.
Step 3: Wrap
Now that the pony is secured, you can begin to wrap the pony. Just secure the Velcro by pressing both ends together. Finally wrap the add-on hair strand around your natural pony. this will hide the elastic hair tie and give your pony a stronger and stylish hold.
Step 4: Ta-Da!
Once you have wrapped the add-on strand to your pony, secure it in place with a bobby pin. Now you are ready to take on the day.
WAB Tip: Use your fingers to comb through the pony to give it the volume you want, and you are ready to go.