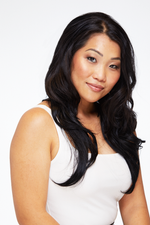 Welcome All Beauty was built for women who value their time and productivity but want to still look their best. Welcome All Beauty products are made to help women stay empowered and elevated. These steps will help you look stylish and keep you from spending three to five hours a week on your hair. Now select one of our 11 hair colors that best suits you and dive right in!
Here is a little video to walk you through the steps.
Step 1: Brush her
Once you've taken your Break The Internet hair out of the packaging, give her a good brush to release the volume.
Step 2: Section off and place
Section your hair into a low pony and leave the front section of your hair loose. Follow by securing the Break the Internet Hair Boost at the back of the head with the flexible comb and then use the front comb to secure the piece to the crown area.
Step 3: Tease to please
Comb and tease your natural hair over the connecting area for a CameraReady® seamless blend.
WAB Tip: Teasing and styling the loose hair where the Break The Internet and natural hair meet will give you volume and make your hair look as natural as possible.
Step 4: Break The Internet
Va-va- Boom! You are done.