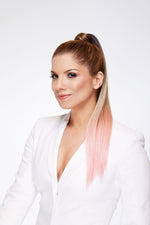 Some of the most popular hair pieces that Welcome All Beauty offers are our fabulous (yet easy to apply!) ponies. Our Make Some Waves Wrap Ponytail or I Am the Party Wrap Ponytail have many versatile ways to style them. Although, it might seem that there are not many ways to style a simple pony, we can show you how to spice it up a little bit. Here are four ways to style your ponies.
To start things off here is a short reminder how to use your pony of choice.
Now we can begin our style inspirations! 
Style One: Pony with a Side of Braid
This elegant pony is made for those ladies who want that graceful and sophisticated look.
Simply begin by parting your hair the way you want. And proceed by braiding beginning from roots to end.
Tip: Braids will vary depending on the style you prefer. Freestyle is welcome for this look.
Once you have completed the braid, go ahead and gather the hair for your pony and tie with a simple elastic band.
Once that is done, you can proceed to apply your Welcome All Beauty pony. For this look, we recommend the Make Some Waves Wrap Ponytail.
Style Two: Pony Braid
One of our simple yet favorite looks is the pony braid.
For this look you can either braid before you place the pony or do it after you have placed the pony. This part is completely up to you. The best part is that you can also braid the pony in any fashion you prefer.
Just simply braid your pony of choice and secure it in place with the wire comb. Now that the pony is secured, you can begin to wrap the pony. Just secure the Velcro by pressing both ends together. Finally wrap the add-on hair strand around your natural pony.
Now secure it in place with a bobby pin and you are done.
Style Three: Bubble Pony
Our final pony style to try is the bubble pony. This creative look will definitely make heads turn.
The first step is to place your Welcome All Beauty pony of choice.
Then you can proceed by taking small thin hair elastic bands and begin to tie them up to the pony from the top of the pony and making your way to the bottom.
Tip: Leave enough room and space between elastic bands.
The final step it to go back and pull through the sectioned off hair. That way you can create the bubble affect. Pull the hair as close to the elastics as possible to build a sturdy bubble. This will vary by preference. You can also make as many bubbles as you like.
Done and done!
Style Four: I Am the Party Wrap Ponytail
Since Welcome All Beauty loves to save you time, we decided to share the easiest style for last. I Am the Party Wrap Pony is one pony that speaks for itself. This one especially compliment everyone's style without the commitment and hair damage.
Just simply tie your hair into a pony. Secure the hair comb into place.
Secure the Velcro by pressing both ends together. Continue by wrapping the add-on strand around your own ponytail and secure it with hair pins.
Time to rock that pony!
We hope that these styles inspire you to get creative and don't forget to share your looks with us!