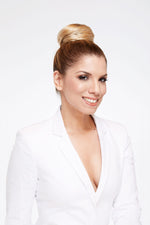 Welcome All Beauty was built for women who value their time and productivity but want to still look their best. Welcome All Beauty products are made to help women stay empowered and elevated. These steps will help you look stylish and keep you from spending three to five hours a week on your hair. Once you have selected one of our 8 hair colors that best fits your natural hair, you can power through this mini tutorial.
And here is a short video to help our visual learners successfully secure their Power Bun!
Step 1: Wrap into a bun
Begin by wrapping your natural hair into a light bun.
WAB Tip: Using a thin elastic hair tie will best suit this look.
Step 2: Bun on bun
Using the two inside combs, stretch the Welcome All Beauty Power Bun cap over your natural hair bun.
Step 3: Cinch the drawstring and done
Cinch the drawstring to adjust the bun as needed and tuck the excess string under the
Power Bun cap. Now you can power through the day with all the time saved on your hair routine.