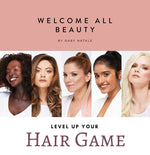 Welcome All Beauty Partner Program
We are thrilled to have you in our ambassador network! Our mission is to empower and elevate women through our products and initiatives. Welcome to Welcome All Beauty Partner program!
Below in this guide you will find the following information:
What is WAB Partner Program
Making the Most of your Partner Links and Codes
What Makes Welcome All Beauty Special (Key points to share about the brand)
Product Descriptions
If you have any further questions, please email us to partner@welcomeallbeauty.com
What is WAB Partner Program?
Welcome All Beauty Partner program is a system that allows beauty professionals and influencers to promote the brand's products and earn a commission from the sales they generate.
This program enables our partners to create an additional stream of income from the safety of their home. Our partners will be able to sell WAB products and monetize the contacts/clients/followers they ALREADY HAVE without investing any money, handling inventory, or taking care of shipping logistics.
It works in an amazingly simple way: partners receive a unique code or trackable link that their followers/clients can use to get discounts or promotions. When the sale is made from the personalized link/code the partner is assigned the commission.
Commission Rate: Up to 20% per transaction
Pay Cycle:30 days - Affiliates earn commission on sales generated within 30 days of a click placed by the customers
Bi-Weekly newsletters with promotions, incentives, and the latest offers designed to help affiliates earn higher commissions
Ideas for Partner Links and Codes
Here are some ideas of where you can use your partner links and promo codes:
E-mail marketing or SMS messages (if you have a client mailing list)
Blog posts or media articles
Social media content including but not limited to

Instagram (Instagram Stories, posts, IG live, IGTV descriptions, and Instagram's link in bio).
YouTube (great for detailed reviews and tutorials. You can always share the link in the description)
Tik tok (hair/beauty related challenges are always popular)
Facebook (posts, lives, Facebook group tips and discussions, video calls, etc)
Linkedin (i.e. if you belong to a women's LinkedIn group that might need to look camera-ready for their video calls).
Snapchat
Remember to follow & tag @WelcomeAllBeauty and use the hashtag #WelcomeAllBeauty & #Partner in your social media posts. 
What makes Welcome All Beauty special?
SELF RELIANCE AND CONVENIENCE. Each of our designer hairstyles has been carefully crafted to be ready in under five minutes without professional help or special skills. Wear one piece at a time or mix and match them to express your unique style.
PURPOSE DRIVEN. Welcome All Beauty's Mission is to empower and elevate women
MISSION. Welcome All Beauty is the first hair line with a focus on productivity. It's about being smart when it comes to beauty. It's about looking fabulous and using your valuable time on something other than your hair.
HAIR INNOVATION. Our hair pieces are created using our proprietary CameraReady® Hair optimized for photography. Our CameraReady® Hair is the most realistic fiber hair in the market. On top of looking fabulous in person, our multi-tonal hues are optimized to blend seamlessly with your own hair and look amazing in photos and real life.
INCLUSIVE BEAUTY. We always showcase our products on women of different ages, sizes, ethnicities, and abilities. Our models come from all walks of life, just like our clients.
Product Descriptions
Click on the names below to access product specs and descriptions
We are very happy to have you on board! If you have any further questions, please email us to partner@welcomeallbeauty.com